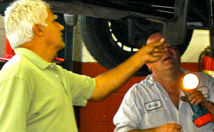 For most people, your car or light truck is the most expensive purchase you make outside of your home.  Regular maintenance is essential to the longevity and economical performance of your vehicle.  Many studies have shown that the money spent on vehicle maintenance saves you money down the road by avoiding more costly repairs required by vehicles not regularly serviced.
Santos Auto Service Company takes maintenance very seriously.  We can track the maintenance your car needs and provide a convenient, one stop facility for anything your vehicle may need.  We use only top quality parts and follow manufacturers suggested servicing intervals to make sure your vehicle is always in top form.  And in the event that a breakdown does occur, having your maintenance schedule handy with the click or two of a mouse can provide us with data and information that can you save time and money.
We know there are many places you can take your vehicle for basic maintenance like oil changes, brakes and exhaust.  But we also believe our experienced and trained ASE Certified technicians are able to spot potential problems and offer recommendations to help avoid costly repairs down the road.