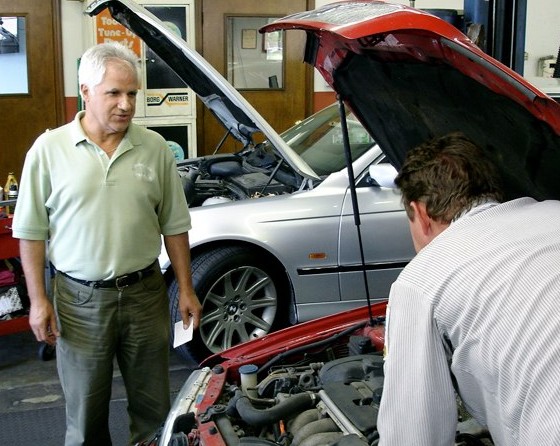 Tony opened his business – Santos Foreign Car Repair – on August 17th, 1981 (6:30 AM to be specific).  At the time, it was a full service gas station with two repair bays, and Tony specialized in the repair of Jaguar, Triumph, Fiat, and MG motor vehicles.  In a very short period of time, Tony's shop became known as the place to take your hard to fix foreign car.
In 1987, Tony moved into a larger building at the rear of this property.  Starting with five bays and a full service parts department, Santos Auto Service Company would eventually grow again adding three service bays for a total of eight, including six lifts and one specifically for precision alignments.
Tony has been blessed with a loyal staff of service writers and technicians. In fact, three of Tony's technicians have been employed by Santos Auto Service Company for over 20 years each!  This is why our customers experience consistent, reliable and ethical service time after time.
Our philosophy is quite simple.  We offer first class service and repair of your vehicle at a fair price, and we stand behind our parts and workmanship.  We have invested heavily in tools, systems and training to facilitate accurate and speedy repairs, and we do whatever we can to make your experience as pleasant as possible.
Santos Auto Service Company would like to thank you – our loyal customers – for your patronage as we eclipse 35 years serving your automotive maintenance and repair needs.  We look forward to serving you for years to come.